got hairs in their ears. Those hearty sons-o-bitches...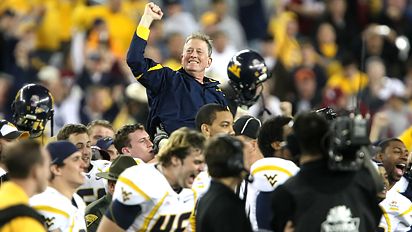 Well, there you go. Good job West by God Virginia. The Mountaineers' performance in the 2008 Fiesta Bowl will now be the #1 entry in the football dictionary for "playing with heart."
The WVU offense ran up and down the field on the Sooner defense - running for long distances from the backfield and on short screens - which eventually left the blue and gold receivers so wide open that it looked like a game of "catch".
The 'neer defense effectively kept the "explosive" Okla offense in check, only allowing points after their offense had created some serious padding.
The Fiesta Bowl has certainly become the "under dog" bowl -
...wipe their a$$ with glass, and laugh cause it itches!
Photo from -
ESPN.go.com